Pan-fried potatoes with paprika
I personally love potatoes, they can be prepared in a thousand ways and are always unique. I think that the recipe for baked potatoes is the delicacy that I would eat for breakfast, lunch and dinner, better if enriched with cherry tomatoes and oregano.
However, I have decided to bring you an even crispier and tastier version that will enchant your palate: pan-fried potatoes with paprika. They are a delicious variation of simple roast potatoes: the one I am reporting is the basic version, seasoned with a handful of herbs and a few pinches of delicious paprika, but there are many others!
I'm sure these potatoes will win everyone's hearts, with their soft interior and crispy crust they will charm every palate. One pulls the other… and the pot will soon be empty!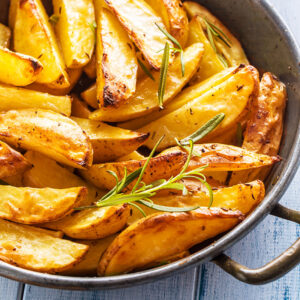 Pan-fried potatoes with paprika
I personally love potatoes, they can be prepared in a thousand ways and are always
unique...
Ingredients
1

kg

potatoes

Rosemary

Thyme

Paprika

Salt
Instructions
To prepare these crispy and tasty potatoes in a pan with paprika you will have to put a pot with plenty of water on the fire and bring it to a boil.

In the meantime, wash the potatoes and cut them into cubes, pieces or wedges.

Once the water has reached the right temperature, add salt and pour in the potatoes. Let them cook for about 10 minutes: the potatoes should have softened but not too much.

Drain them and place them in a bowl.

Sauté them in the bowl so that they are slightly damaged, trust me that this will create a crispy crust.

Season with plenty of oil, thyme, rosemary and paprika. Finally, season with salt.

Place them in a large frying pan so that they do not overlap and cook over a high flame for about 20 minutes, turning often. The potatoes should be golden and crispy, but be careful not to burn them!

Serve hot with a tomato sauce or simple ketchup, and you have a tasty and enveloping side dish!

CURIOSITY: Potatoes are among the fruits of the earth that I love the most, they are the protagonists in a thousand different recipes and make every dish extremely magical. But that's not all, this extraordinary tuber (contrary to popular belief it is not a vegetable but part of the tuber family) can even produce energy! How does it work? I'll explain. When two metals, for example two bars of copper and two bars of aluminium, are immersed in the 'electrolyte solution', i.e. the potato juice, and come into contact with each other thanks to a conductor wire, for example a copper wire, they are able to generate an electric current. But to make sure the experiment works, you will need a voltmeter! The usual principle of the potato, known as the "voltaic pile", is followed for nickel batteries, alkaline batteries, etc. The same experiment can be carried out with fruits such as lemons, oranges...
Video recipe
FrancescaF
The vegetable broth Vegetable broth is a basic [...]
FrancescaF
Cappelletti filled pasta with homemade meat sauce Cappelletti [...]
FrancescaF
Dead Roast Chicken Dead roast chicken: crispy, tasty [...]