Italian pasta salad recipe
Cold pasta, a great way to cool down sultry summer days and celebrate sweet days with friends and family, is a recipe with immense, wholesome yet rejuvenating flavours. Like rice salad, it can be prepared in a million ways and variations, depending on personal taste.
There is a version with pesto and cherry tomatoes, one that can be prepared either hot or cold, one with prawns and courgettes, one with feta cheese, salmon, sausages… and many more.
In any case, this recipe will be delicious because the main element is pasta: the essence of Italian cuisine. A fabulous ingredient in any way, pasta can make sad and stormy days brighter and more cheerful. The recipe I have brought you today is made with the ingredients you all have in your pantry: few elements but delicious. My favourite type of pasta for this recipe is farfalle, but fusilli are also perfect!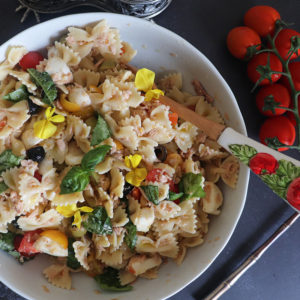 Italian pasta salad recipe
Cold pasta, a great way to cool down sultry summer days and celebrate sweet days with friends and family.
Ingredients
300

g

pasta (the best are farfalle or fusilli)

200

g

mozzarella cheese

300

g

cherry tomatoes (yellow and red)

100

g

olives (green and black)

230

g

canned tuna (4 tins)

salt and pepper

Lemon juice
Instructions
To make this perfect summer recipe that will cool off the hottest days, start by placing plenty of water in a pot. Bring it to the boil and add salt. Cook your pasta for the time indicated on the packet (unless you have made it at home following the recipe in my book!).

Once cooked, drain the pasta and run it under cold water to stop the cooking process. Then put it in a large bowl, season with oil, salt, pepper and the juice of half a lemon. Cover with cling film and leave to rest in the fridge.

In the meantime, prepare the sauce: wash the cherry tomatoes and cut them into 4; cut the mozzarella into 4 and drain them with a strainer to remove excess liquid; cut the olives into two; open the tins of tuna and drain them; finally, wash and dry the basil, then chop it up with your hands.

When the pasta has cooled down, add the sauce to it and stir to combine the ingredients. Season to taste with oil, salt and pepper. Finally, cover again with cling film and refrigerate for at least one hour. Enjoy this cold pasta with friends and it will be even better, enjoy!
Video recipe
Notes
Making pasta at home is really easy and fun, and the first taste is a fabulous sensation. All you need is flour, eggs, salt and oil to taste paradise! Take a look at my book to find out how to make it, with all its versions and ways of using it! And just think that homemade pasta only takes a mere 3 minutes to cook and gives you much stronger emotions than throwing away the one you bought by instinct on the big supermarket shelves.
FrancescaF
An Italian in New York: my adventure in the [...]
FrancescaF
The vegetable broth Vegetable broth is a basic [...]
FrancescaF
Cappelletti filled pasta with homemade meat sauce Cappelletti [...]