Black rice summer salad
This morning a vague memory of last summer came to mind: some friends and I were in Sardinia, anchored with our boat in the beautiful waters of La Maddalena. Amidst the water games and lots of laughter, a certain pang had appeared in our bellies, luckily my mother had prepared a delicious cold rice salad for us! What goodness was that simple, fresh dish, perfect for hot summer days.
So today, like a bolt of lightning, I felt like making a big portion for me and my family but, alas, I didn't have any carnaroli rice at home. That's why I tried this equally fresh, equally fantastic recipe: Venus rice and a few other ingredients created an intoxicating display of flavours.
Cold rice or pasta salad for the summer time
Cold rice salad, like pasta salad, is one of my favourite recipes because it is simple and open to a million variations. Whether you use venere, brown or carnaroli rice, this dish is always fantastic. It can be made in a thousand ways: today I have brought you this simple version, with ingredients that more or less everyone has at home (with the exception of teriyaki sauce, which is only found in the homes of Japanese cuisine lovers).
In any case, you can vary the recipe according to the ingredients you prefer: it is also delicious with chickpeas, rocket, cherry tomatoes and avocado, not to mention how the rice goes with mozzarella, sausages and spring onions in oil! In short, give free rein to your imagination to create a recipe in the shape of you: fresh and healthy, or a little more fatty with the use of mayonnaise.
Having said that, all you have to do is lace up your apron and off you go – I hope you like it!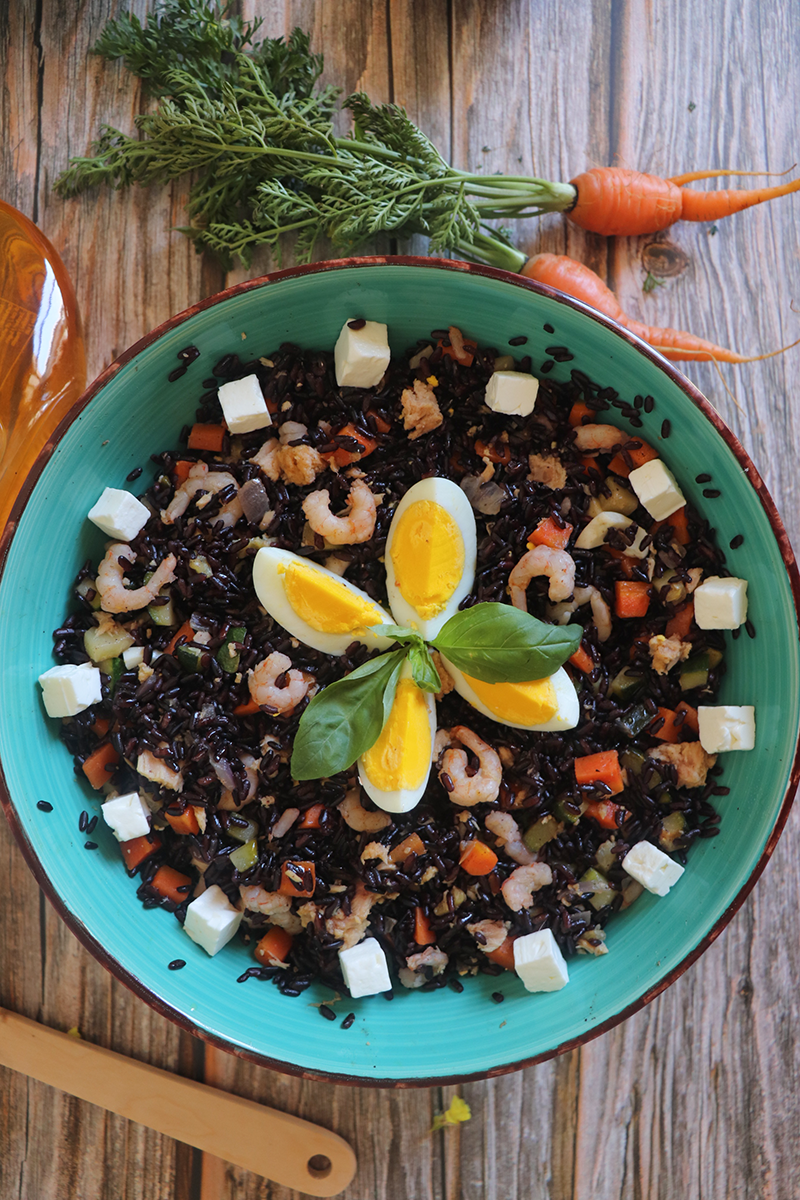 Italian black rice summer salad
italian black rice summer salad: a fresh and tasty salad for the hot days!
Ingredients
400

g

venus rice

4

eggs

200

g

frozen but thawed prawns (better if fresh)

1/2

red onion

1

large courgette

3

carrots

1/2

glass of white wine

2

jars of tuna in oil or au naturel

100

g

feta cheese, diced

Salt and pepper

Soy sauce

Teriyaki sauce
Instructions
To prepare this fresh rice salad you will first need to boil a pot of water. When it comes to the boil, add salt to the water and cook the rice for the time indicated on the box (mine was 18 minutes). Once ready, drain the rice, place it in a large bowl and let it cool, first at room temperature, then in the fridge.

In the meantime, put the eggs in a saucepan, cover with water and cook for 10 minutes from the moment of boiling. When they are ready, run them under cold water, let them cool and then peel them.

Boil the shrimps in another saucepan of water and cook them for about 1 minute, or the time indicated on the packet. Finally drain and leave to cool.

Now prepare the vegetables: wash and clean the carrots, courgette and half a red onion. Cut the onion into small pieces and fry it in a pan with a few tablespoons of oil. When golden brown, add the carrots and courgette cut into small cubes. Cook for about 8 minutes, then add half a glass of white wine. Season with salt and pepper.

Now add all the ingredients to the rice: in the rice bowl add the shrimps, the sautéed vegetables, the hard-boiled eggs cut into pieces, the two jars of tuna and the diced feta. Mix everything together.

Place in the fridge for about an hour, or for the time before the meal. When ready to serve, season with oil, salt and pepper, a few turns of soy sauce and teriyaki sauce to taste. Enjoy!
FrancescaF
An Italian in New York: my adventure in the [...]
FrancescaF
The vegetable broth Vegetable broth is a basic [...]
FrancescaF
Cappelletti filled pasta with homemade meat sauce Cappelletti [...]