Pasta alla Norma recipe
Pasta alla norma is a typical and very juicy recipe from southern Italy, specifically Sicily. Simple and quick to prepare, this first course encompasses in its delicious sauce all the scents of the Mediterranean: it managed to win me over too, and I don't like aubergines at all.
It is prepared by frying aubergines, but there are many variants, especially the light ones… today, however, I bring you the original version, rich in carbohydrates and a bit heavier, but unequivocally fantastic. Enriched with a sprinkling of salted ricotta cheese it will be even better. ;)
Some tips for a light Pasta alla Norma recipe
Pasta alla Norma is now the typical dish of Catania's cuisine, rich in history but above all in delicious ingredients. I would never want to ruin the long tradition of this dish but unfortunately summer is approaching and with it the swimming costume test. So, for those of you who, like me, love pasta and its many variations but don't want to feel too guilty when the heat arrives, I give you a few little tips to make your pasta slightly less caloric and more "healthy", as they say  nowadays.
First of all, let's start with the tomato sauce: I don't know about you, but I always tend to exaggerate a bit with oil, a fundamental element for me in the kitchen. I find that olive oil makes every dish better, every ingredient a masterpiece. So when I make pasta with tomato sauce… well I just say that it would be more appropriate to call it "pasta with oil and tomato". So my initial advice is to reduce the amount of oil, using only 2 tablespoons, because unfortunately,
although divine, it has a lot of calories (my enemy par excellence).
Then let's talk about aubergines: as I think you know, even a shoe is good when fried, according to my greedy brother. I know, a real attack… but this is the only solution, but just as good: instead of frying your aubergines, grill them in a pan with a tablespoon of oil. They won't be fried, but they will still be fantastic.
Last but not least, the choice of pasta: first and foremost, it is of fundamental importance to specify that a home-made egg pasta, as well as giving a satisfying satisfaction in making it and being much quicker to cook, contains countless fewer calories than bought pasta, about 100 calories less per 100 g, and the same goes for fats. But if you don't have the time to make it at home, I suggest buying wholemeal pasta: slightly crunchier to taste but with many benefits. In fact, as well as stimulating peristalsis, thus improving digestion, it also enriches the intestinal flora, strengthening the immune system. It also reduces cholesterol and has a preventive effect on the genesis of certain intestinal tumours! In short, simply unique.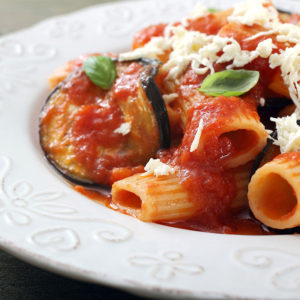 Pasta alla Norma recipe
Pasta alla Norma is now the typical dish of Catania's cuisine, rich in history but above all in delicious ingredients.
Ingredients
1

large aubergine

700

ml

bottle of tomato puree

1

red onion

Salted ricotta cheese to taste

Basil to taste

Oil, salt and pepper to taste

Chilli oil to taste
Instructions
First wash and trim the aubergine, then cut it in two and then in thin slices, making many small crescents.

Then fry them in hot oil and once golden brown remove the excess oil by placing them on a sheet of paper.

In the meantime, prepare the tomato sauce: cut the red onion into thin slices and brown it in a large pan with plenty of oil.

When the onions are well coloured, add the tomato puree, a ladle of water and the basil leaves. Finally, add salt and pepper.

Cook for about 10-15 minutes, or until it has reduced.

In the meantime, cook the rigatoni in boiling salted water for the time indicated on the package.

Add a few turns of chilli oil to the tomato sauce, if you like, and once the pasta is ready transfer it directly to the pan with the sauce.

Add half of the fried aubergines.

Stir-fry so that the ingredients are well mixed.

Finally, serve with a snowfall of salted ricotta. I promise that your guests will not be able to stop eating this delicious dish!
Video recipe
FrancescaF
An Italian in New York: my adventure in the [...]
FrancescaF
The vegetable broth Vegetable broth is a basic [...]
FrancescaF
Cappelletti filled pasta with homemade meat sauce Cappelletti [...]